Simms Freestone Midjevadare – Dark Gunmetal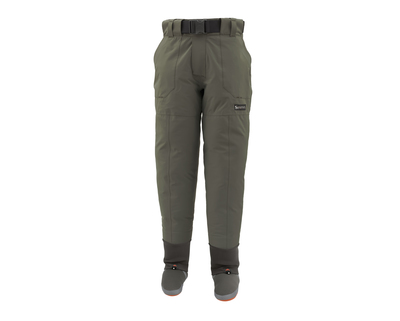 Simms Freestone Midjevadare – Dark Gunmetal
Durable, breathable four-layer Toray® waist-high waders for lightweight travels, high-output hikes, and warmer days on the water.
When warmer days and high altitude streams beckon, the Freestone Pant completes your lightweight kit. These hard-working waist-highs pack small and travel far with all the brush-busting toughness and moisture-wicking breathability of their chest-high cousins. They also feature the same purpose-built design that promotes natural mobility when negotiating unmarked obstacles in and out of the water.
Four-layer Toray® QuadraLam™ waterproof, breathable laminate.
Integrated, adjustable waistband offers comfort and security.
Articulated patterning and center-leg.
Neoprene gravel guard.
Anatomically engineered neoprene stockingfeet with anti-microbial finish.
No Custom Options Available.
Imported.
Four-layer Toray® QuadraLam™
Toray® fabric technology was developed specifically for fishing waders. The QuadraLam™ fabric featured in the Freestone® wader is a heavy-duty engineered fabric with a micro-porous waterproof coating that utilizes 2-layer coated fabric, a single membrane layer and a tricot backer to offer improved durability.
Simms Freestone Pant Size Chart
WADER SIZE
LARGEST GIRTH  (Chest, waist or hip)
INSEAM  (Crotch to floor)
STOCKINGFOOT
Inches
CM
Inches
CM
US Sizes
UK Sizes
EUR Size
S
35"-36"
89-91
31"-32"
79-81
7-8
6-7
38-39
M
39"-40"
99-102
33"-34"
84-86
9-11
8-10
42-44
L
43"-44"
109-112
33"-34"
84-86
9-11
8-10
42-44
XL
47"-48"
119-122
35"-36"
89-91
12-13
11-12
44-46
XXL
51"-52"
130-132
35"-36"
89-91
12-13
11-12
44-46