Revivex Spray Water Repellant 300ml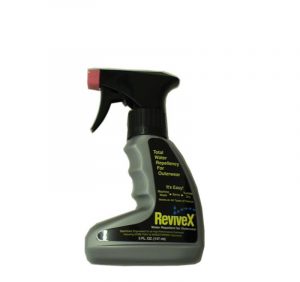 Revivex Spray Water Repellant 300ml
Håll dina favoritkläder vattentätta så länge du kan.
If your favorite waterproof jacket or soft-shell has lost its water resistance, or your rain gear is no longer shedding rain, don't throw it out! Spray on ReviveX® Durable Waterproofing to create or restore water, oil and stain repellency on all your favorite outerwear.
How does ReviveX do it? Your rainproof outerwear comes factory-treated with
Durable Water Repellent (DWR). Over time, it wears off—so you feel wet and clammy, instead of warm and dry. After washing the dirt and oils away with ReviveX Fabric Cleaner, the waterproofing will bond to the fabric, restoring factory level water repellency without impacting breathability.
Just spray this water-based formula on wet or dry garments, dry, and enjoy waterproof pants, jackets and rain gear again.